VinFast's Cheapest Electric Car Is Actually Revealed, May Open Depot This Month
Some images of the new model being transported to the VinFast service workshop have circulated widely on social networks in recent days. The product is sealed, revealing only a few details of lights, rims and glass doors… Based on this information, car enthusiasts believe that it may be a purely electric VF 5 SUV.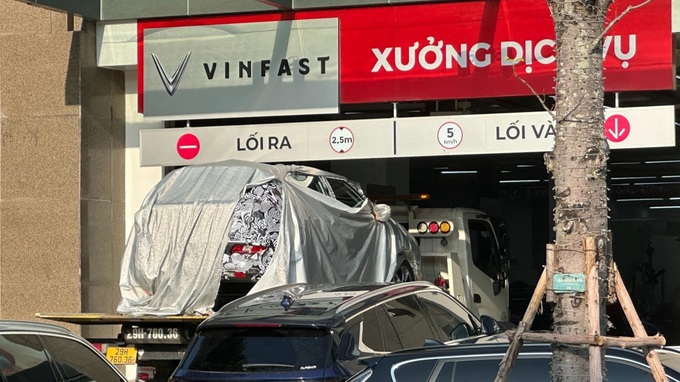 According to dealer information, VinFast VF 5 may receive a down payment in December, with an expected retail price of around 400-500 million VND. However, there is still no official information about this electric vehicle, the form of sale with battery or rental has not been disclosed.
Meanwhile, VinFast's sales advisors also released preliminary information about the car and received advice, but also said the car was priceless. Interested customers can make an advance deposit in the form of a "reservation" in the amount of VND 10 million – similar to the previous method with VF e34.
In VinFast's electric car product line, the VF 5 is the smallest model, belonging to the A-class SUV segment. This will replace the Fadil – the gasoline car model that dominated sales in the Vietnamese market in 2021, before when it was "killed" under VinFast's strategy to eliminate internal combustion engine vehicles from mid-2022.
After ceasing to sell petrol cars, VinFast's product line now includes the VF e34 priced at over VND 600 million, with the VF 8 and VF 9 duo both costing over VND 1 billion. The automotive segment under VND 500 million in Vietnam is evacuated by VinFast. Adding a low-cost product is essential if the company wants to popularize electric cars.
VinFast VF 5 was first shown at the CES technology exhibition to be held in early 2022 in the United States. The car is the smallest all-electric SUV in its new product line, covering ABCDE segments. Unlike the "sister" models that were revealed on the test track, the new VinFast VF 5 appears as a concept.
Designed with enough size for 5 people, VinFast VF 5 has a compact exterior. The wheels measure up to 18 inches with the 225/40R18 parameter. Through the revealed images, the interior of the car is simply designed and driver-oriented. Meanwhile, currently, motor and electric battery information has not been disclosed.