VinFast revealed that it brought over 1,000 foreigners to Vietnam to test drive electric cars
Global Investment Conference (Bloomberg Invest) hosted by Bloomberg on October 12-13, bringing together financial and business investors from around the world. During the event, Mrs. Le Thi Thu Thuy – Vice President of Vingroup and Managing Director of VinFast Global had an interview with journalist Lauren Kiel during the "Spotlight Conversation" session on why VinFast decided to investing in the US market and unique marketing strategy.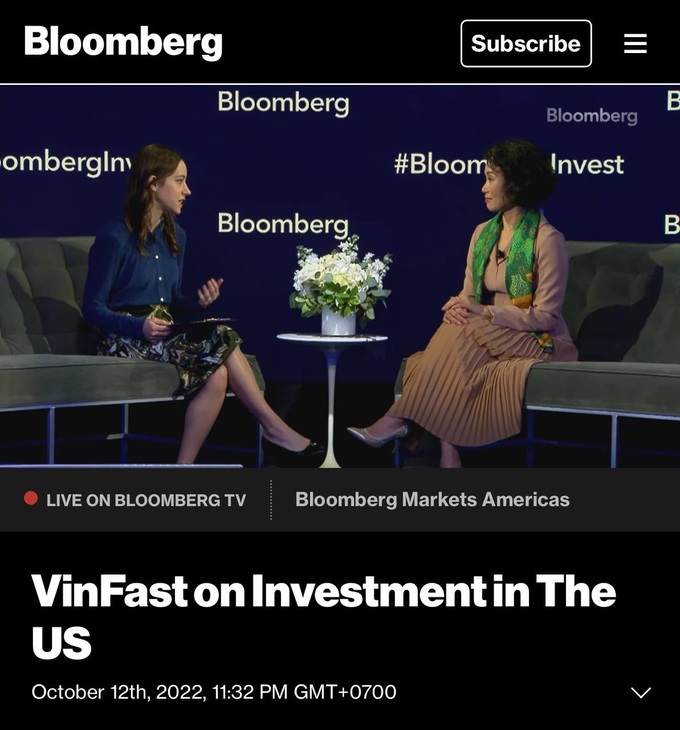 Early in the talk session, reporter Bloomberg raised the 'burning' question when President Joe Biden has just signed the Cut Inflation Act, which plans to give preferential credit only to electric cars made in the USA. Prior to this issue, Ms. Thuy said the decision to invest in the US was made long before the Inflation Reduction Act came into effect.
"North America is also our largest and most important market. We announced our North Carolina factory project in March 2022. Setting up a production facility in the United States will help VinFast to take the lead in managing the supply chain, maintaining price stability and shortening product delivery times, thus making it easier and faster for VinFast electric vehicles to reach consumers," said added Ms. Thuy.
Journalist Lauren Kiel said VinFast is a new brand and poses a big challenge in terms of marketing to get people's attention. Ms. Thuy said VinFast has strengthened its brand identity by marketing directly to consumers.
"We began our journey to global markets by attending and making our mark at a series of major automotive industry events. Typically the launch event at the Los Angeles Auto Show, announcing the strategy purely electric vehicle and a full line of electric vehicle products at CES 2022, held a test drive at the New York International Auto Show… and received a lot of attention. At each event, VinFast showed a different progression compared to other competitors. has come before and has always been valued as a fast-growing, potential car brand," she said.
VinFast's Global Managing Director pointed out that with the "Seeing is Believing" campaign, VinFast's parent company, Vingroup, brought more than 1,000 people around the world, including journalists, customers, KOLs… in Vietnam. .
"We have organized 4 Vietnam Tour, bringing guests from all over the world to Vietnam to experience Vingroup ecosystem and VinFast factory in Vietnam, so that they can clearly see the potential and capability of Vingroup and VinFast," said underlined Ms. Thuy.
In addition, VinFast also runs product introduction programs in US cities, helping consumers understand and trust the brand.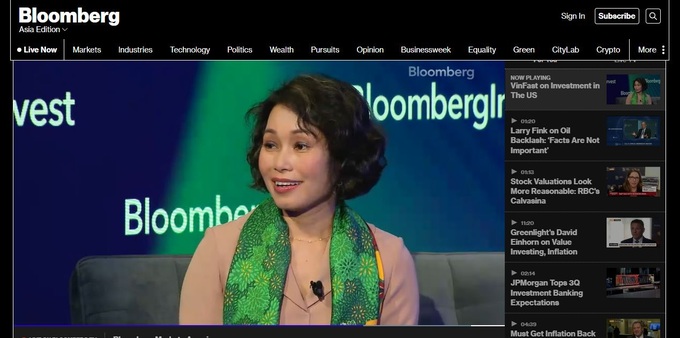 A Bloomberg reporter asked on what basis VinFast thinks it can break into the North American market. Ms. Thuy affirmed that VinFast will attract customers through 3 core values: high quality products, reasonable prices and excellent services. In addition, VinFast also offers an innovative and flexible commercial policy. These are the factors that make VinFast electric cars more accessible in the market.
As for high quality, said Ms. Thuy, VinFast models are designed by the world's leading partners, possessing a modern exterior – a luxurious and elegant interior; meets the highest safety standards (EURO NCAP, NHTSA). In terms of technology, VinFast electric cars have Level 2+ self-driving functionality, currently equivalent to major brand electric cars, but will soon be upgraded to Level 4.
"VinFast cars are equipped with outstanding Smart Service features to bring maximum convenience, meet practical needs and deliver exciting travel experiences for customers," Thuy said.
Furthermore, Ms. Thuy said that VinFast cars are luxury cars, high quality by international standards at reasonable prices. The sales policy has 2 flexible options, selling batteries or renting batteries to create maximum initiative for customers.
Finally, service – after-sales, VinFast is a pioneer car company with a warranty policy for the whole car and car battery up to 10 years, or 200,000 km will be repaired to upgrade . It is one of the best warranty policies on the market, bringing peace of mind to users.
The repair shop system of VinFast and its partners is extensive, the maximum free time is only about 24 hours, the mobile service includes on-site repair and mobile repair service to improve the experience and customer convenience. A Western-style professional excellence customer service experience, combined with a dedicated, sophisticated and caring Asian service spirit, to bring VinFast service quality to a new level.