Vinfast returns to CES 2023 with an ecosystem of electric vehicles
Returning to the Consumer Electronics Show – CES 2023 (which runs from January 5-8, 2023 in Los Angeles, California, USA) after a year of purely electric campaign announcement, VinFast will launch 4 electric car models The hottest segments popular are VF 6 , VF 7, VF 8 and VF 9 respectively: BCDE.
In particular, the VF 8 model launched commercial products and exported the first batch of cars to the American market in 2022. Visitors can test drive the VF 8 directly in the CES exhibition with 2 experiences: an experience of sit next to the (accompanied) driver and be introduced by VinFast experts to the modern technological features of the car; unique VF 8 direct trial experience. The remaining models are nearing completion and will launch commercial products as early as 2023.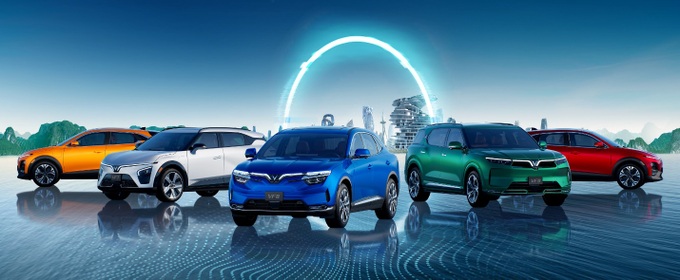 In addition to electric cars, VinFast will introduce electric bicycle concepts for the first time, having launched electric cars, electric motorcycles, electric buses and clean energy solutions on the market, completing an ecosystem of electrochemical products. Inspired by the design of VinFast electric cars, the young and healthy style electric bikes will inspire people to travel more "green".
4 e-car models and 4 e-bike concepts will be on display at the VinFast stand in the center of CES. Visitors to the VinFast booth at CES are expected to have interesting activities in the immersive room on the journey of VinFast and the VF 9 model.
CES attendees staying at this year's Bellagio Hotel will be transported to the exhibit by VinFast's VF 8 model. Customers will also see the VF 8 electric car rolling through the streets of Las Vegas for the first time.
Ms. Le Thi Thu Thuy – Vice President of Vingroup and President of VinFast – said: "We return to CES with very special emotions. It was here last year that VinFast announced its all-electric strategy and plan. Delivering cars to customers by the end Just days ago, that promise came to fruition when the first 999 VF 8 electric vehicles arrived at the Port of Benicia, California, and will soon be delivered to customers. We are also rapidly developing a system of stores and service shops in California, which will soon open to other states in the United States, so that we can serve customers quickly, quickly and easily. »
VinFast's press event at CES will take place at Booth 5501, Las Vegas Exhibition Center on the morning of January 5, 2023 (Las Vegas time). The kiosk will also be open to the public and test drives will take place from January 5 to 8, 2023.