Vinfast and NXP Semiconductors cooperate to develop smart electric vehicles
Under the agreement, NXP Semiconductors (referred to as NXP) will supply VinFast chipsets, solid-state electronics and sensors. NXP will also participate in VinFast's new vehicle development projects from the start, providing breakthrough solutions for the next generation of VinFast's smart electric vehicles.
Moreover, NXP will connect and share with VinFast the partner ecosystem to provide reasonable solutions to speed up the product development process. The partnership also included the creation of a research and development (R&D) team, focused on developing solutions based on NXP's benchmark evaluation platform and software tiers for design, development and implementation. implementation of the best electric cars.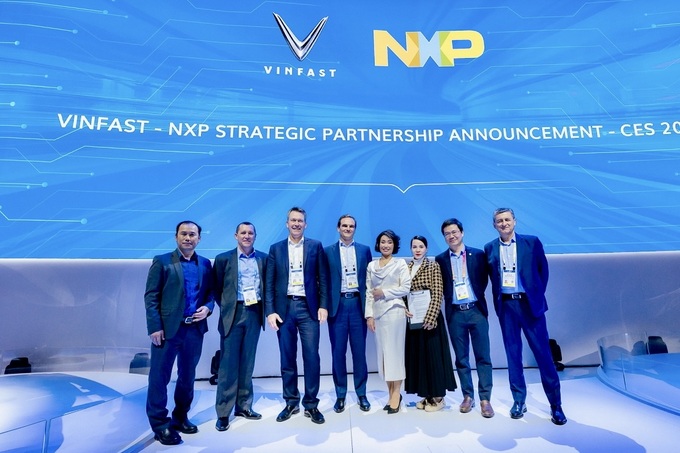 As a member of Vingroup – Vietnam's leading private company – VinFast cooperates with NXP and will help elevate the group's product and service ecosystem by leveraging the advantages of connection technology to provide optimal solutions for customers. Thus, member companies of the group will also have access to NXP's smart solutions to develop smart city applications.
Le Thi Thu Thuy – Vice President of Vingroup and President of VinFast – shared: "Cooperating with NXP will help promote the technology, design and production processes of the next generation of VinFast cars. Our future electric vehicles will use NXP's revolutionary high-quality technology. semiconductor solutions to provide safer and more secure vehicles. In addition, Internet of Things (IoT) solutions are also helping to remove barriers to citizens' daily lives in future smart cities.
Speaking on the partnership announcement, Mr. Lars Reger – Chief Technology Officer of NXP Semiconductors – said, "We are delighted to partner with VinFast, a well-positioned company, to identify and promote. We hope the products, technology and the vast ecosystem of partners will contribute to the realization of our shared vision inspired by two companies".
NXP Semiconductors is one of the world's leading manufacturers and suppliers of semiconductors. The company also provides technology solutions for the automotive, industrial infrastructure, mobile telephony and Internet of Things sectors. With the goal of rapidly developing the global market and a vision of future generations of electric vehicles and smart cities, the strategic cooperation of VinFast and NXP is expected to be an important step in the journey towards creating a smarter, more cleaner and more connected for everyone.