Vietnamese customers can order VinFast VF 6 and VF 7 electric cars from March
As part of the Consumer Electronics Show CES 2023 which takes place on January 5 (i.e. January 6 Vietnam time), VinFast announced the detailed specifications of two electric SUV models VF 6 and VF 7. These are two electric SUV models. B and C, officially opened the order portal from March 2023.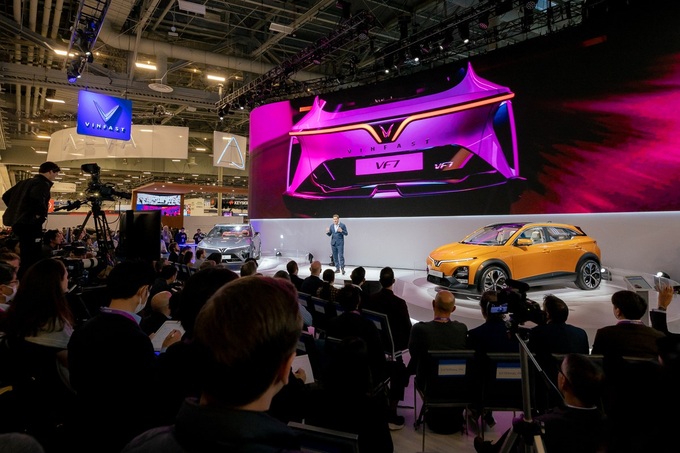 Both VinFast VF 6 and VF 7 have Eco and Plus versions. In particular, the VF 6 Eco is equipped with an electric motor with a maximum capacity of 130 kW (174 hp) and a maximum torque of 250 Nm, a full charge of 248 miles (399 km). The wheels of this version have a size of 17 inches.
VinFast VF 6 Plus uses a more powerful electric motor with parameters of 150 kW (201 hp) and 310 Nm, can travel 237 miles (381 km) after a single charge, 19-inch wheels. The VF 6 duo are both equipped with a 59.6 kWh battery, smart entertainment utilities and applications will be displayed on the 12.9 inch touch screen.
With VinFast VF 7, the Eco version has a maximum capacity of 150 kW (201 hp) and a maximum torque of 310 Nm, the maximum travel distance for a single charge is 280 miles (451 km). The wheels of the car are 19 inches in size, the entertainment screen is 12.9 inches.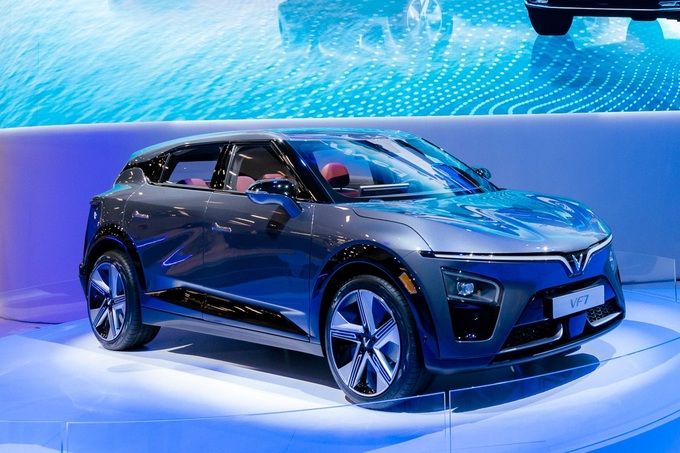 The Plus version of the VF 7 has the same 75.3 kWh battery as the Eco version but has a lower range, just 268 miles (431 km). The reason for this is that the electric motor in this version has an output of up to 260 kW (348 hp) and 500 Nm. The VF 7 Plus is also equipped with the AWD all-wheel drive system.
The entertainment screen on VinFast VF 7 Plus is also larger than the Eco version, measuring 15 inches. The wheels are 20 inches, and there is also the option of 21 inch wheels.
Whatever the version, VinFast VF 6 and VF 7 are equipped with the ADAS level 2 driver assistance system. Modern functionalities such as virtual assistants, mobile applications… are also integrated.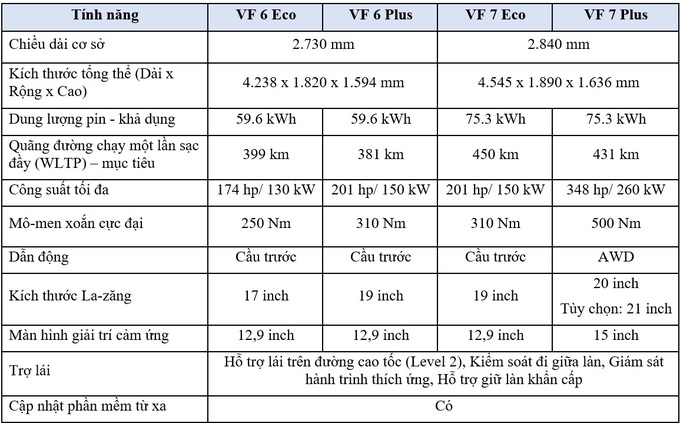 Thus, the product line of electric vehicles covering the ABCDE segments of VinFast has been fully unveiled.
In December 2022, VinFast VF 5 Plus A-size electric SUV was opened in Vietnam, VF 8 (D-size) was released to Vietnamese customers from September 2022, and VF9 (E-size) It is expected to be available for users in January 2023.