Samsung Galaxy Z Fold3 5G 256GB
Samsung Galaxy Z Fold3 5G, a completely upgraded phone in many ways, especially it's the world's first folding screen phone with a hidden camera (August 2021). The product will be a "hit" from Samsung, helping to bring new experiences to users.
Design elevates folding screen smartphone
It can be seen that the Galaxy Z Fold3 smartphone this time maintains its appearance with the same book-shaped folding screen mechanism as its predecessor, "transforming" the smartphone into a mini tablet easily and vice versa.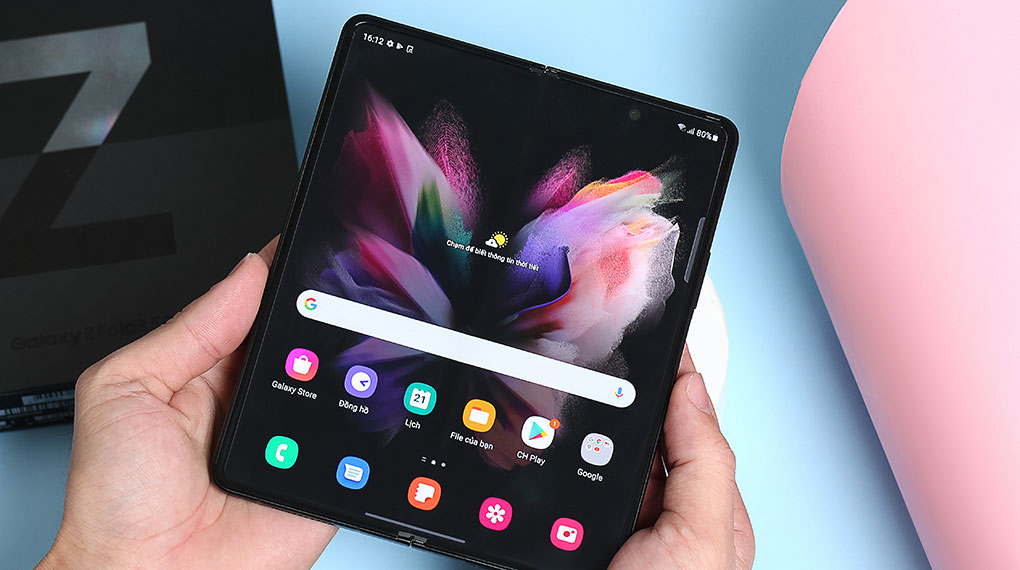 The Armor aluminum frame is sturdy, 10% more durable than previous materials produced by Samsung. With a sturdy structure, you can be assured of enjoying your favorite activities to the fullest.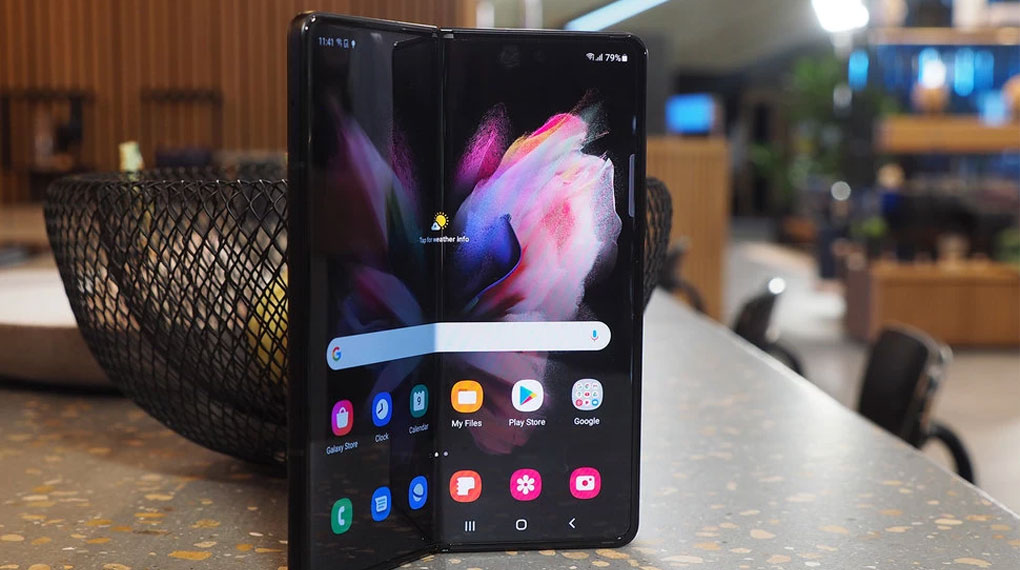 The newly designed hinge coupler helps to connect the frame of Galaxy Z Fold3 more perfectly, increasing its durability when opening and closing continuously and extremely firm, giving you the most comfortable using experience.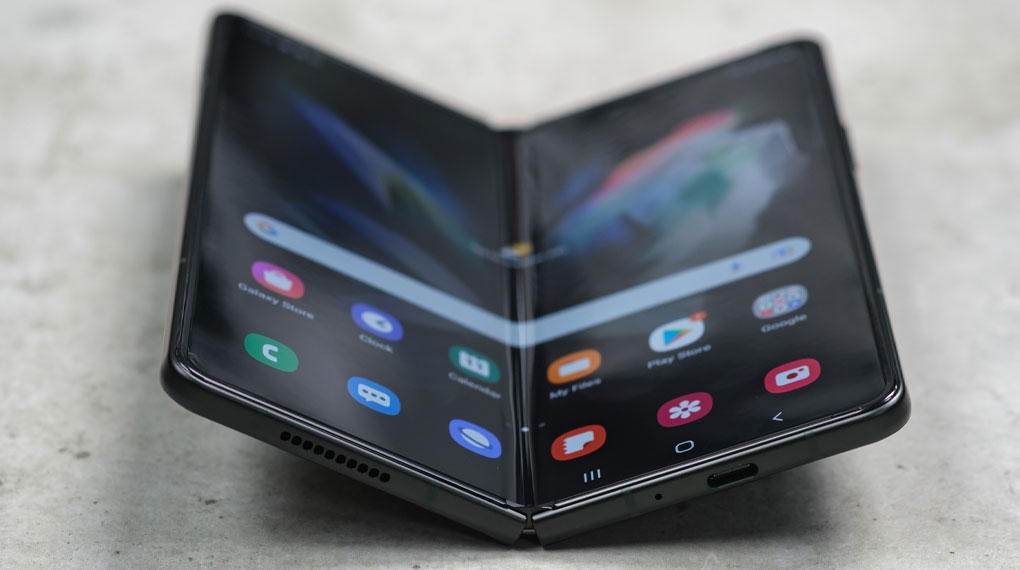 The back of the Z Fold3 5G is rougher than the back of the Z Fold2 5G, which helps limit dirt, sweat or fingerprints when we use the device.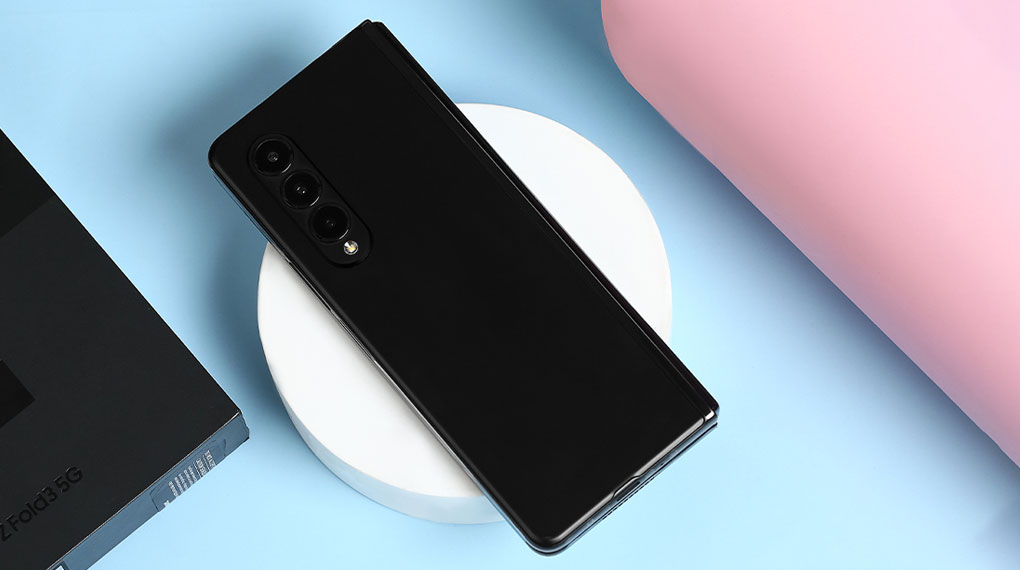 Additionally, Samsung said it uses Gorilla Glass Victus for the outer display to improve the durability of the Galaxy Z Fold3 5G, making it impact resistant when dropped from a height of 2m and scratch resistant. up to 4 times.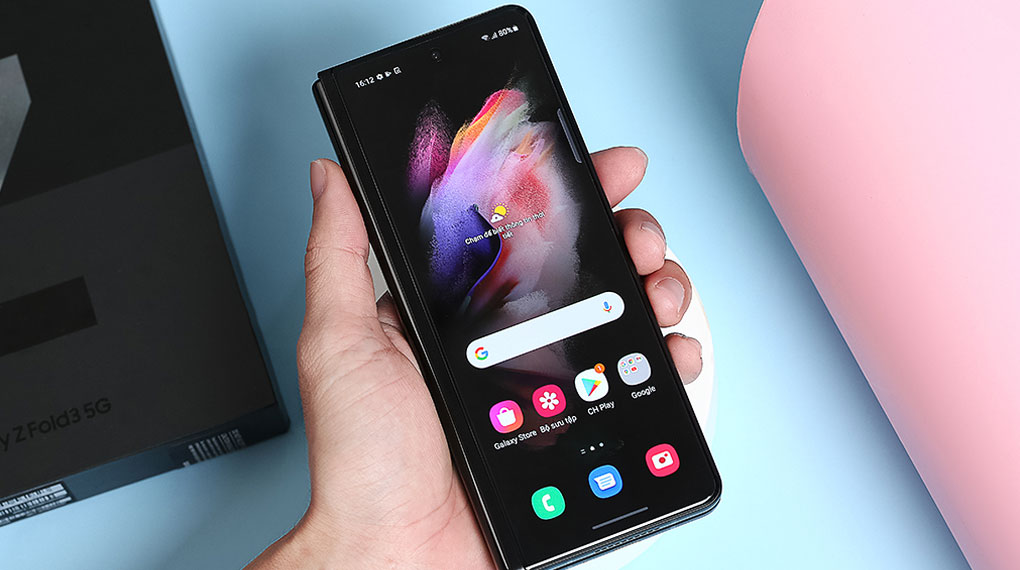 Large stereo speaker system on the top and bottom edges, built-in Dolby Atmos technology, Z Fold3 5G for gaming experience, watching movies with high volume, clear and realistic multi-channel effects.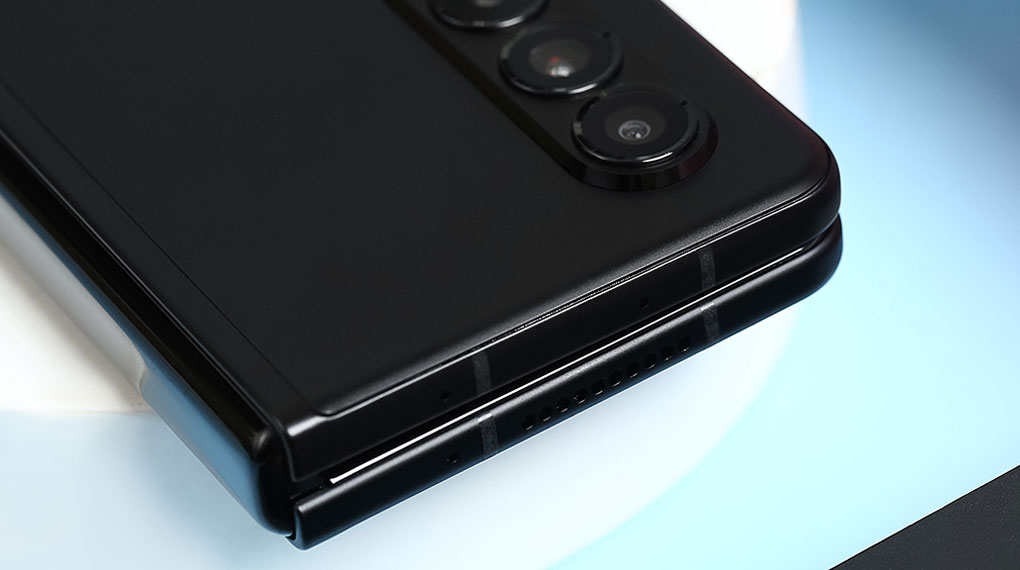 With a fingerprint sensor on the side, unlocking the Z Fold3 5G's screen is now quick and secure with just one touch.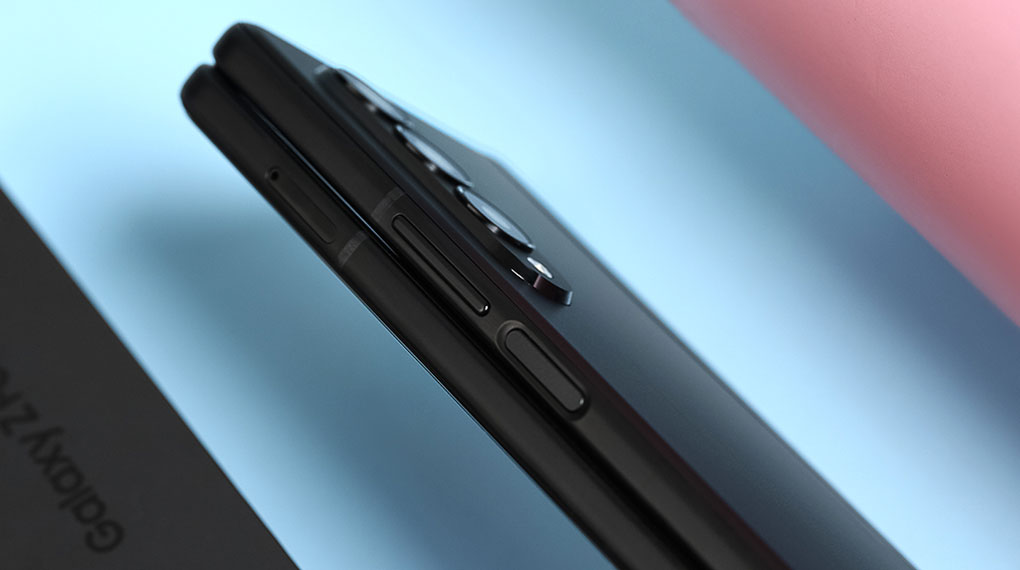 Revolutionary screen with hidden camera
The Samsung display uses the Dynamic AMOLED 2X panel, the border of the main screen is also optimized by the company to streamline, the design offers an ultra-thin border for a more subtle overflow feeling which is very pleasing and eye-catching.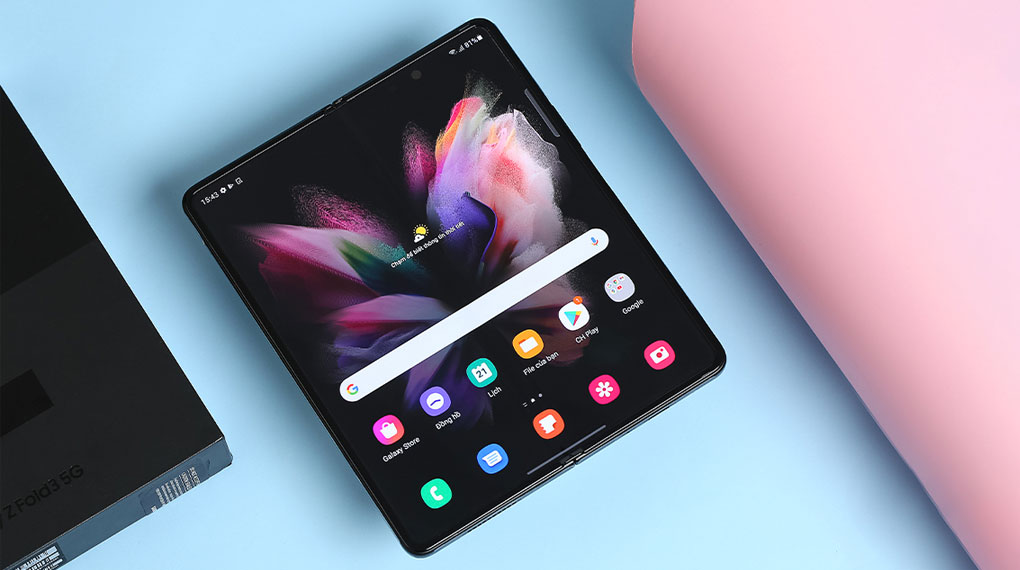 In particular, Z Fold3 is also the world's first foldable phone with a hidden camera under the screen, providing a more seamless and eye-catching experience.
The inner display is covered with an exceptionally thin Ultra Thin Glass (UTG) that increases durability by 80% over its predecessor, while the secondary display is made of Corning Gorilla Glass Victus for peace of mind when of use, providing extreme durability as it can be opened and closed easily without affecting the screen's display and touch capabilities.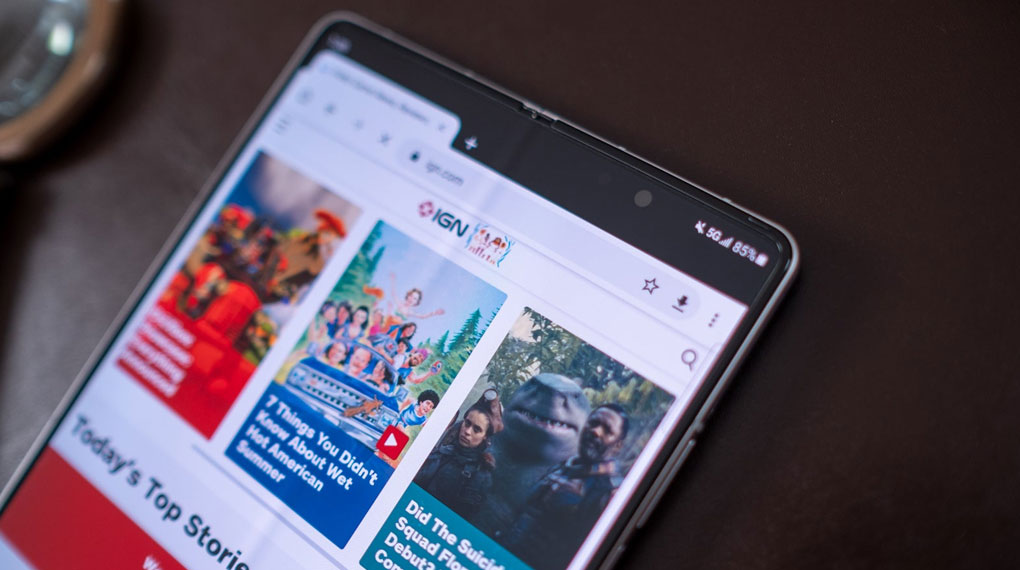 In addition, the secondary screen is also equipped with a fairly large size of up to 6.2 inches, the resolution of this screen is also quite high, and the display is extremely crisp and smooth like the main screen.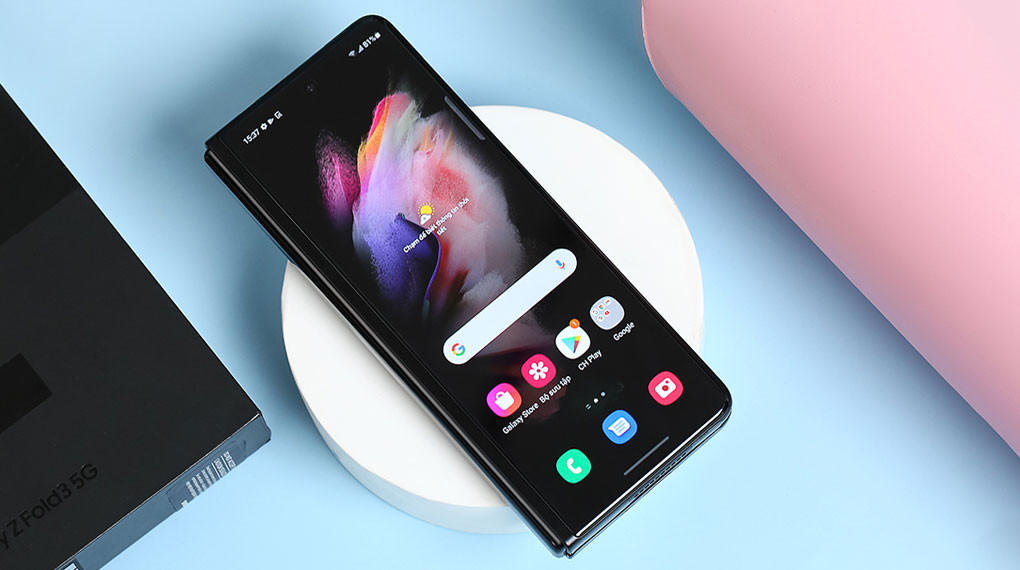 Both screens are also upgraded by Samsung with 120Hz refresh rate to help all touch, swipe and picture movements to be handled extremely smoothly, delivering a voyeuristic experience, helping you truly immerse yourself in the space.
The Galaxy Z Fold3 5G is supported with a divine S-Pen, a big improvement over its predecessor to let you comfortably perform many tasks on a large screen.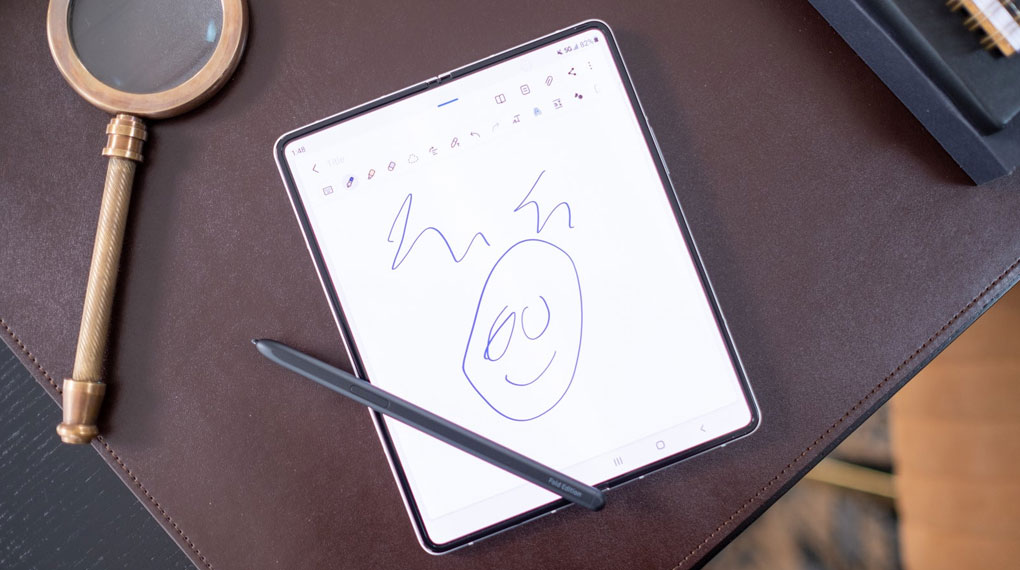 High quality camera group
As for the camera, the Z Fold3 uses a 3-megapixel 12MP camera system which is completely identical to the Z Fold2, including the main camera, super wide-angle camera and telephoto lens, all placed in a rounded rectangular module which looks quite neat and tidy. delicate.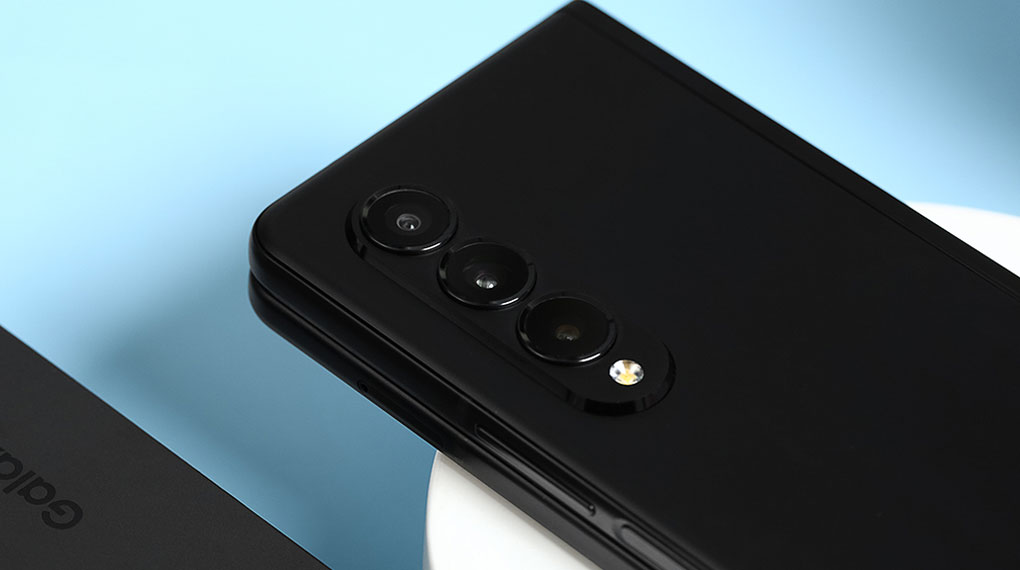 In general, the camera system of Samsung's high-end phones is always top quality, which will definitely give you an excellent photography and video recording experience.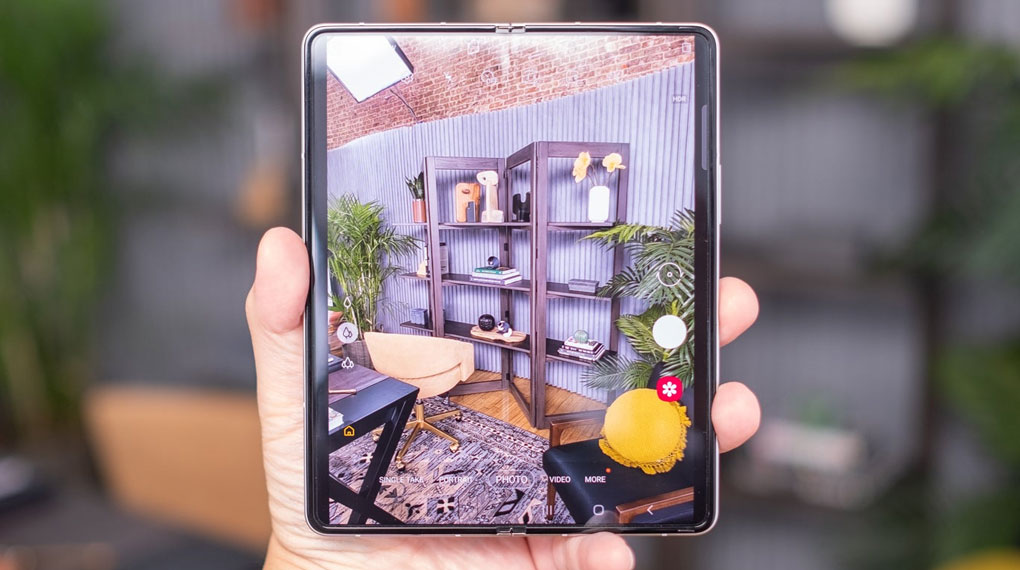 You can easily blur the background, stabilize and beautify with AI, auto color correct, master the night to bring beautiful frames with just a press of a button. At the same time, the main screen also allows you to split the screen to take and review photos at the same time.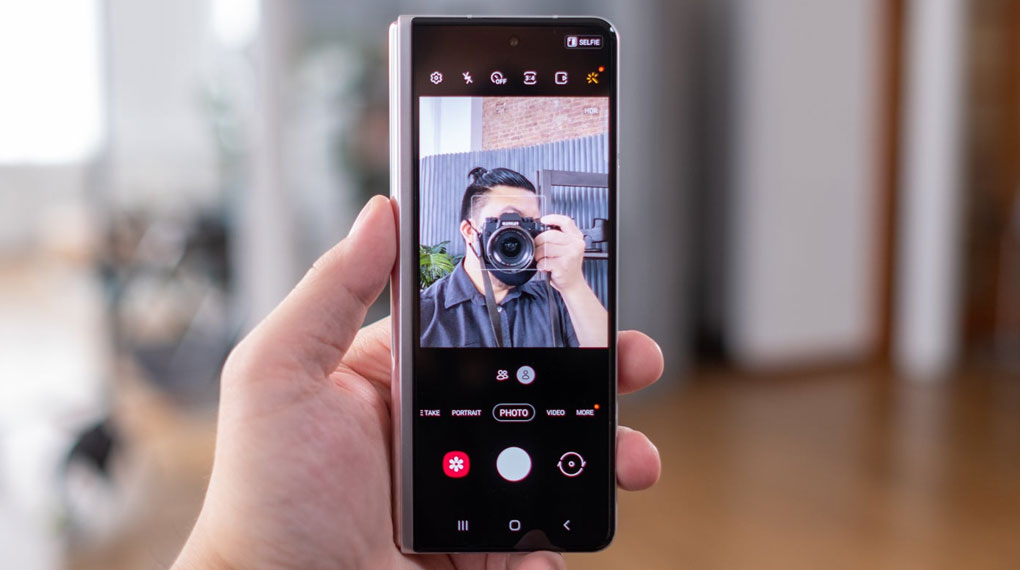 Additionally, the duo of selfie cameras on both screens gives pretty good image quality, but when you need to take high quality selfies, users can use the 3 rear cameras and the external screen as a viewfinder to get high quality photos. .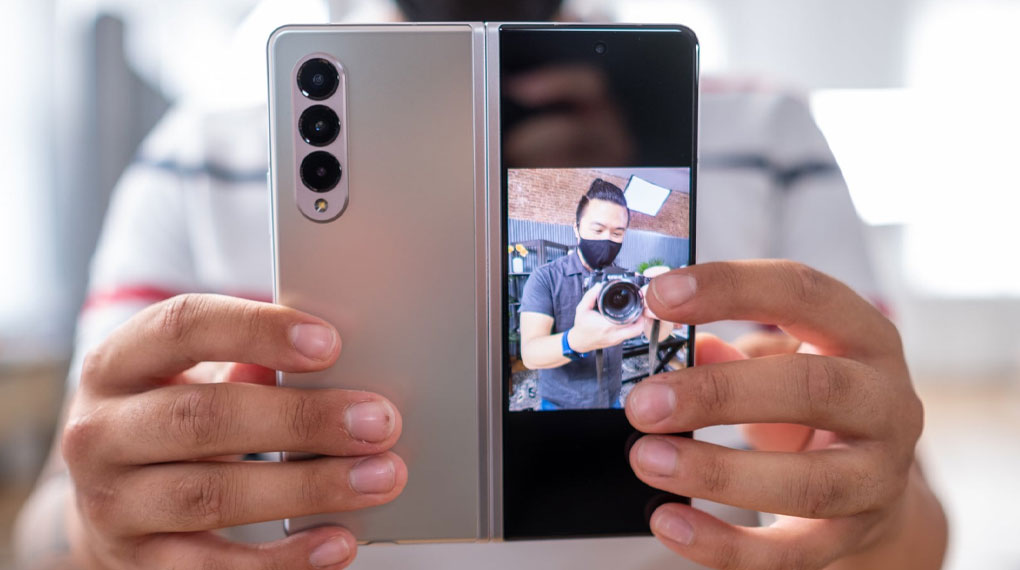 Great setup with Snapdragon 888
The Galaxy Z Fold3 uses the Snapdragon 888 chip, one of Qualcomm's most powerful processors, which can quickly handle all operations and applications on both screens.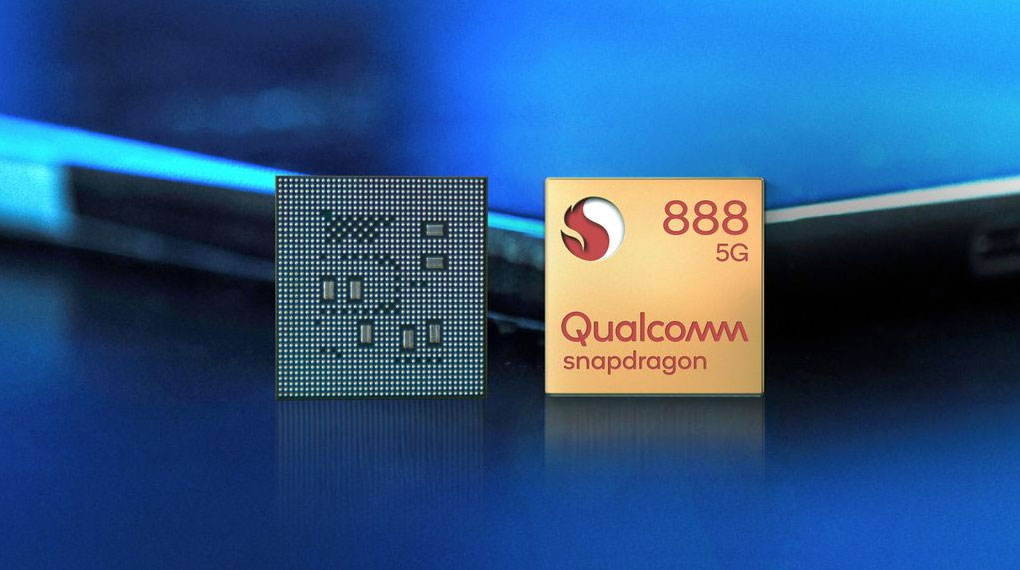 Additionally, the Galaxy Z Fold3 will have better heat dissipation when gaming, maybe even cooler than the Galaxy S21 Ultra 5G.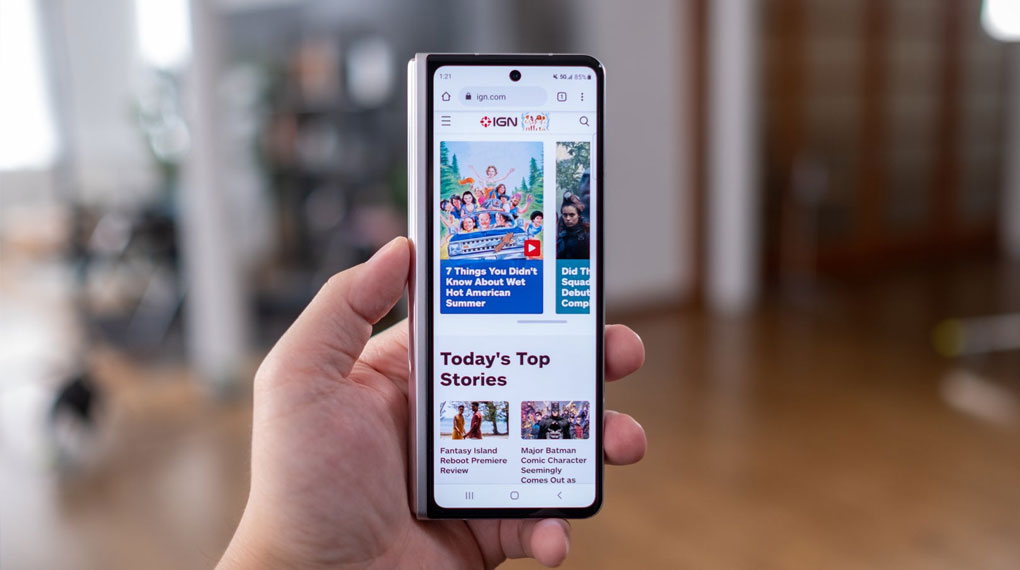 The Z Fold3's RAM memory has also been upgraded to 12GB for excellent multitasking capabilities, helping all the heaviest applications run at the same time.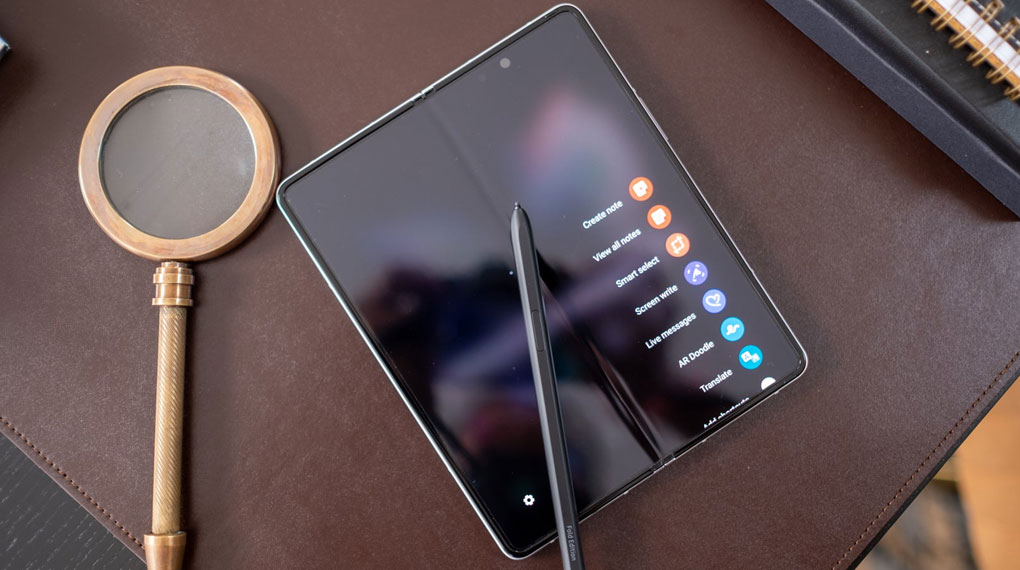 Samsung also offers large storage capacity with 256GB of internal memory so that users can use it comfortably without worrying about the capacity running out quickly.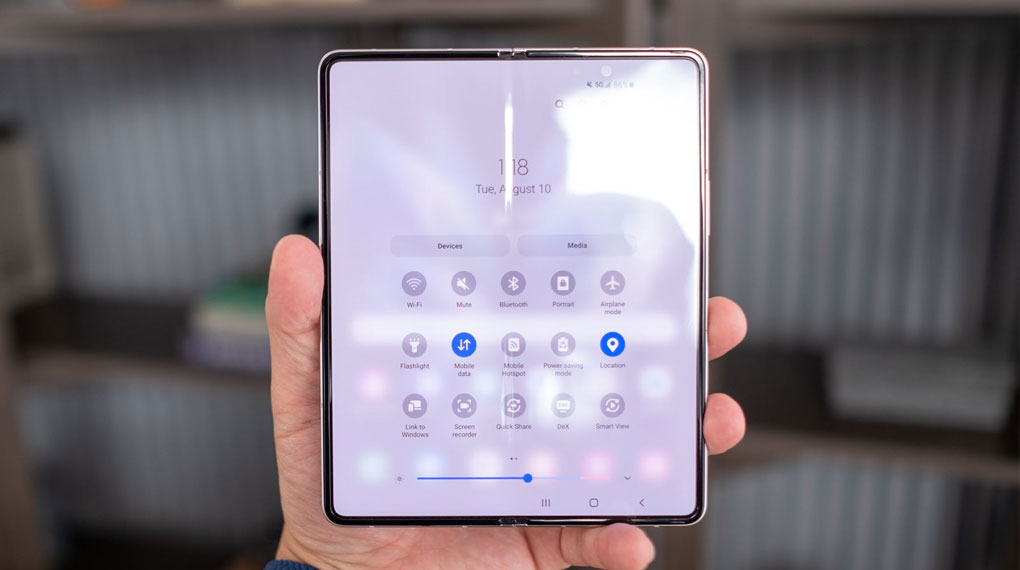 The Android 11 operating system is also optimized on the One UI interface, offering an intuitive interactive experience like on a computer and allowing a smooth transition of content between the main screen and the secondary screen without having to reload the application or reload the game.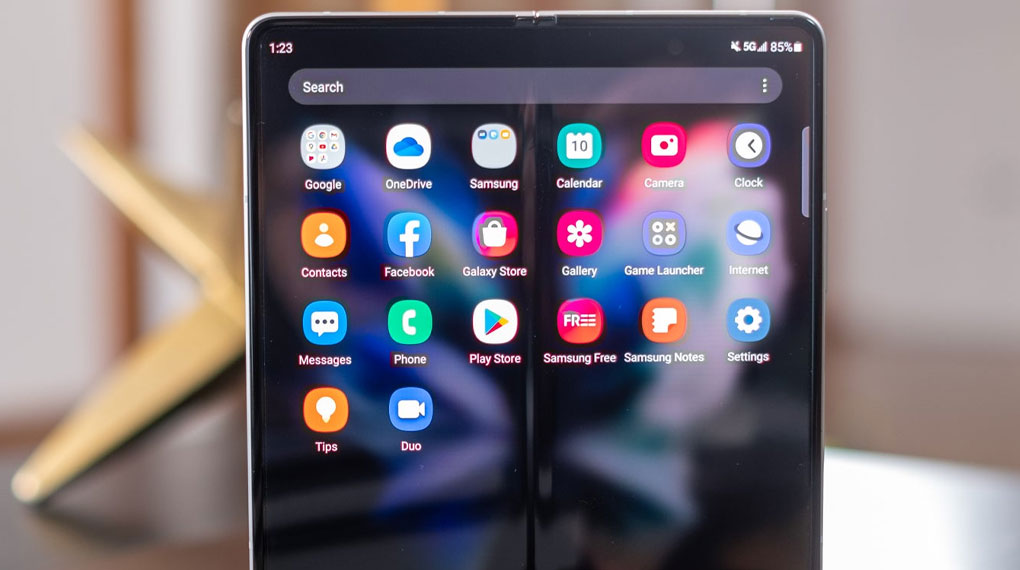 Moreover, Samsung Galaxy Z Fold3 is also equipped with 5G internet connection standard for super-fast internet connectivity so that you can use the internet anywhere with super high speed.
Sufficient battery life
The Samsung Galaxy Z Fold3 5G has a battery capacity of 4,400 mAh, just enough for you to use it for about a day with normal work and entertainment tasks.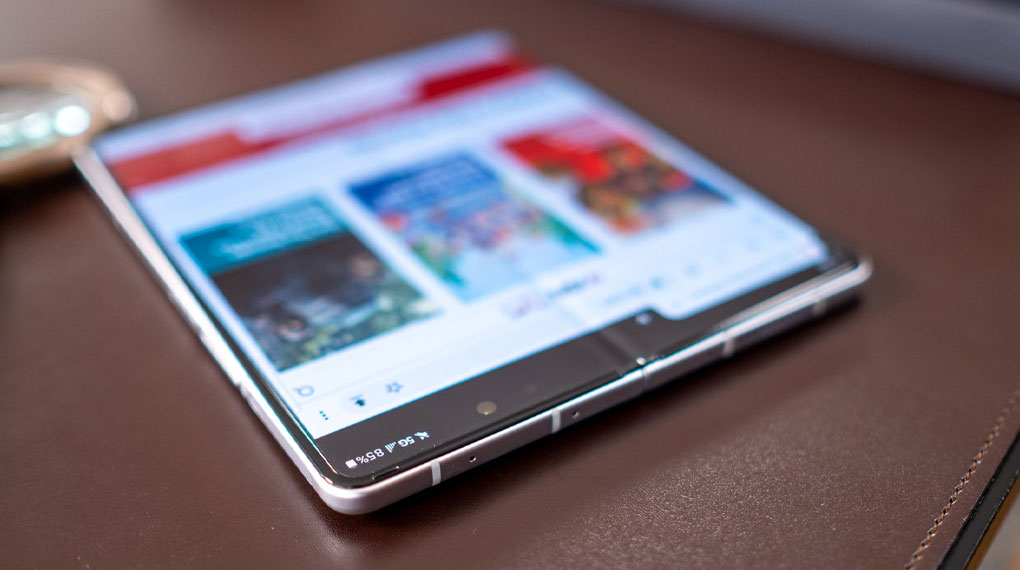 Additionally, the phone also features 25W fast battery charging, wireless charging, or wireless battery sharing for other Qi-enabled devices like smartphones or Galaxy Buds headphones.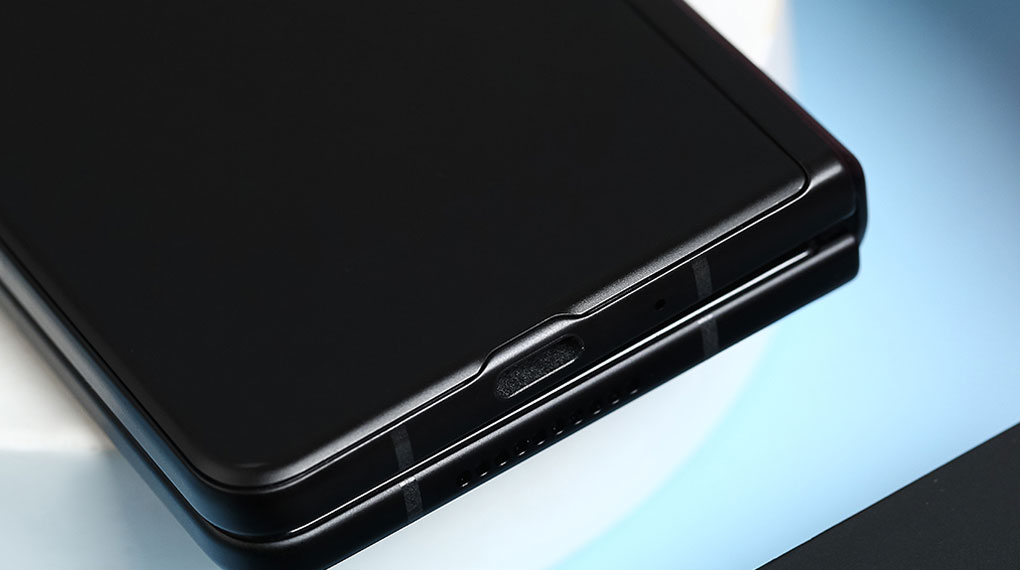 In general, the Samsung Galaxy Z Fold3 5G has been improved a lot over its predecessor from design, from screen to performance, the product helps Samsung to continue to assert its class position in the folding screen smartphone market. .