How safe is VinFast's first electric car?
In the October assessment, VinFast VF e34 was tested and certified by the Southeast Asia New Car Assessment Program (ASEAN NCAP) and certified 4-star in overall safety, with a score accumulated 78.99 points.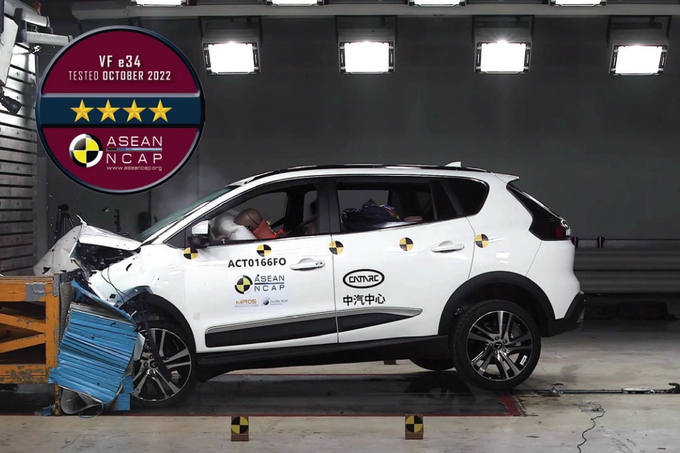 Specifically, VinFast VF e34 scored 35.92 points in the Adult Protection (AOP) category, 17.71 points in Child Protection (COP), 12.5 points in Motorcyclist Safety (MS) and 12 .86 points for Safety Assist (SA).
In particular, VinFast's electric car model received a 4-star rating in the Safety Support category, and the remaining three categories received a 5-star rating.
VinFast VF e34 has standard safety equipment including: 6 airbags, seat belt reminder system for front and rear occupants, electronic body stabilization and anti-lock braking.
Along with these, the car is also equipped with a number of advanced features such as Lane Departure Warning, Rear Cross Traffic Alert, Emergency Call, Blind Spot Warning, automatic high beams.
According to an announcement from ASEAN NCAP, the VF 334 is the fourth VinFast model to be certified for safety by this organization. However, it is the first product from the Vietnamese automaker to be assessed under the new process applied over the period 2021 – 2025.
For this new process, the highlight is the addition of a scoring category for driver assistance features, such as Automatic Emergency Braking (AEB). Along with this, both the Child Protection and Motorcyclist Safety categories will have a maximum score of 20, while the Adult Protection category will have 40 points, so the total ASEAN NCAP score can reach up to 100 points.
In 2019, VinFast's first three gasoline car models received ASEAN NCAP safety certification. In which, Lux A2.0 and Lux ​​SA2.0 achieved 5 stars and Fadil achieved 4 stars. The VF e34 is the company's first electric vehicle to be certified by this organization.