999 VinFast VF 8 electric cars docked in California, awaiting delivery to the United States
Data from the Marine Traffic site show that the Silver Queen docked today at the port of Benicia (California, USA). This train carries 999 VinFast VF 8 electric cars, departing from Dinh Vu MPC Port – Cat Hai Economic Zone (Hai Phong) on ​​November 25.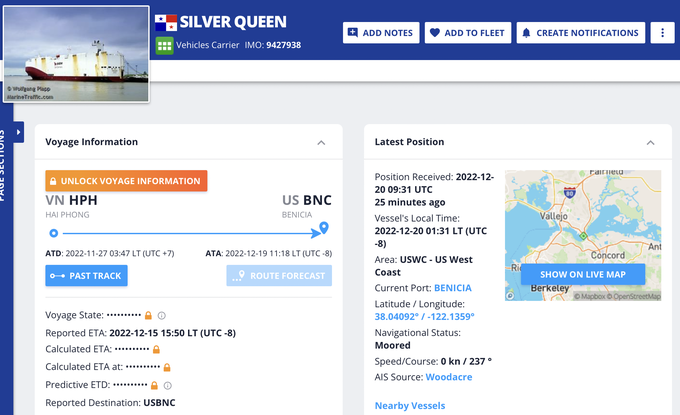 Thus, the first commercial batch of VinFast VF 8 cars for the international market has officially arrived in the United States. Vehicles will be dismantled and moved to the parking lot. Photos show that this event received a lot of attention from Americans.
According to VinFast, after completing the necessary procedures, it is expected that the first VF 8 cars will be ready for delivery to US customers in December.
The United States is the first market chosen by VinFast in its ambition to open up to the world. This is seen as a bold step by the Vietnamese automaker when it has to meet the stringent demands of the world's most demanding market, as well as face stiff competition from other electric car brands, especially Tesla.
The Vietnamese automaker said the 999 VF 8 units in the first batch represent only a small part of the 65,000 VinFast VF 8 and VF 9 electric car orders worldwide. After the United States, VinFast will export the next batch of VF 8 cars to the Canadian and European markets for rapid delivery to customers in 2023.
Currently, VinFast has a total of 10 VinFast Stores in California, including 6 stores opened in July and 4 new stores opened in mid-December. VinFast also commissioned four service shops in California to supply electricity. vehicle maintenance and repair services.
VF 8 is positioned by VinFast in the D-SUV segment, length x width x height is 4750 x 1900 x 1660 (mm) respectively. The car uses two electric motors for a maximum capacity of 300 kW (402 hp), a maximum torque of 640 Nm, capable of accelerating from 0 to 100 km/h in less than 5.5 seconds, all-wheel drive.
Meanwhile, the VF 9 is classified in the E-SUV group, the "big brother" of VinFast's electric car product line. The model is the same size as the Lexus LX 570. Moreover, the Vietnamese brand has introduced electric car models in the lower segment, including VF 5, VF 6 and VF 7 to diversify the selection needs of customers.